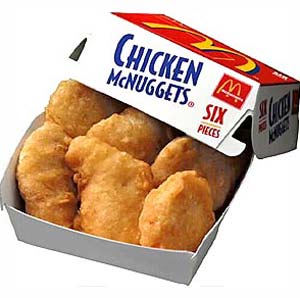 How many of you ate McDonald's Chicken McNuggets growing up? How many of you still do? And how many of you feed your kids the Happy Meal McNuggets? Have you ever been curious as to what's really inside a McNugget? D
itto for the Filet-O-Fish - which, by the way, was my older brother's favorite fast food growing up.
If you answered yes to any of these questions, then click on the link below. You just might end up making another choice next time you are headed for fast food.
http://health.msn.com/nutrition/articlepage.aspx?cp-documentid=100254643
The article is authored by David Zinczenko and Matt Goulding, the two men who are behind the "Eat This, Not That" book series (which I always enjoy using as a resource). I haven't checked the accuracy of the ingredients listed for each food item, but I have confidence the info is fairly accurate based on the authors' past work.
Comments anyone?
By the way, I will be doing a future post about how you

can

eat healthy at fast food restaurants - stay tuned!