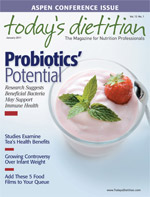 The writer interviewed several RDs, asking our opinions on
five films (

Food, Inc., King Corn, Fresh, Big River and End of the Line

)
and how these films have impacted our communities, clients and even ourselves. These documentary films
explore the evolution of our food supply sources and systems
-
genetically-altered corn
that has infiltrated our grocery shelves, the chemical contamination of our water resources, the effects of
overfishing
on the world's oceans, the ever-tightening
corporate control
over our nation's crops and what consumers can do about it.
I encourage you to read the entire article to learn more about these issues - after all,
we all eat food and we all deserve to know not only it comes from, but how and why.
And a big thanks to Lindsey Getz for writing a great article.